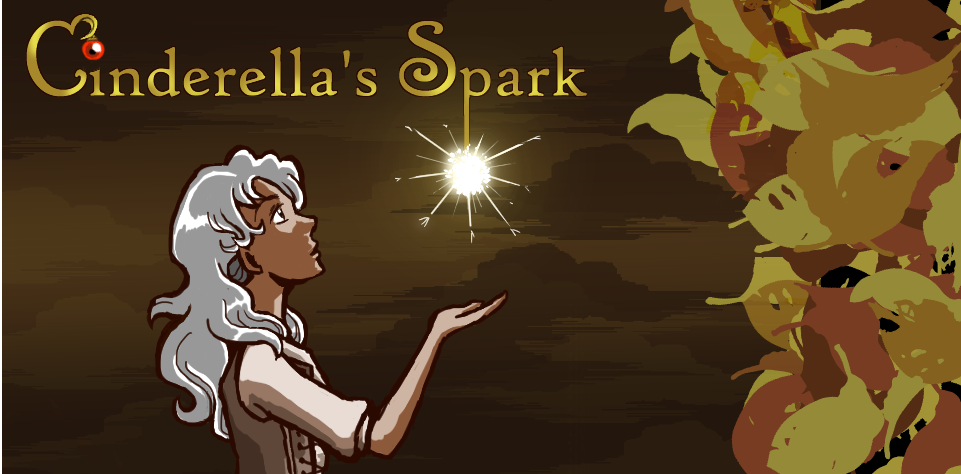 Cinderella's Spark
A downloadable game for Windows and macOS
What you don't know can't hurt you… or is it the other way around?
Cinderella's life has been unhappy but predictable up until now – playing the part of a scullery maid for her cruel stepmother and oblivious stepsister. But one day, her stepsister, Agatha, finally takes notice and tries to help her.

It would be a welcome change of pace, except that Agatha's shift in attitude seems to be motivated by a terrible secret. Can she really be trusted when she says Cinderella is better off not knowing the truth?
Features:
1 hour play time
Twisty storyline
6 endings
---
This game is free, so have at it!

I would love to hear reactions and comments. To keep the game experience fun for everyone, please tag spoiler comments appropriately or route them to email/tumblr.
tumblr

Facebook

Lemma Soft forum
email: dazzleberrygames@gmail.com
---
UPDATE 8/25/19
Aaaa, Cinderella's Spark has hit 1,000 downloads!
Thank you so much, everyone!
---
UPDATE 6/19/17
Cinderella's Spark has hit 400 downloads!

Check out the celebratory bonus art of Agatha!

---
UPDATE 4/15/17
Reached 300 downloads!
Which means: All-new bonus art of Cinderella!
---
UPDATE 4/8/17
Cinderella's Spark is nearing 300 downloads, hooray!

I'll be celebrating each coming 100 download milestone with a new piece of bonus art! Share the game and help me hit 1000 downloads for all 8 images!

Learn more.
---
UPDATE 2/26/17

Fixed a bug at one of the decision points.
---
Install Instructions
Download the CinderellaSpark.zip file.
Extract all files to a shared folder.
Launch by opening the CinderellaSpark.exe file.
Install instructions
1. Download the CinderellaSpark.zip file.

2. Extract all files to a shared folder.
3. Launch by opening the CinderellaSpark.exe file.
Comments
Log in with itch.io to leave a comment.
I really enjoyed this story. Well done!
My first playthrough I learned of the twist. Second I didn't, and I tried on the shoe. I'm reading the epilogue, and the dramatic irony is absolutely amazing. It was all extremely creative.
Question: why is this tagged as an otome?
Thank you for your comments! I'm glad you enjoyed the story.

I picked the otome label because it's an anime-influenced visual novel primarily geared at women, so otome is the closest genre that fits.
Amazing game! I was expecting a typical Cinderella story and a typical fairytale ending. But, oh boy, what a twist! I really enjoyed the artwork and the design is neat as well. Good job :D
Congrats for the release!! :D
I really like ur game! :)
I like the twist in there and how u tell the story. I also like cinderella's personality XDXD

I also like the art and the music :3 :3

[SPOILERS BELOW]

BUT, I am wondering... Why Agatha doesnt move to far away village and lived peacefully. Why must she stay in that village so the prince can found her?


Also, Is there any 'auto' option?

Btw, I'll wait for ur next game! Gimme more mystery and twist pls XD
Thank you so much for playing! You should be able to speed through the text your second time through using the Skip option from the gear menu. But I don't think there's a way to play it slowly and auto-proceed.

[MORE SPOILERS]

For your other question, that's a good point... I don't think she realized how determined he would be until she was already "stuck!"